| | | |
| --- | --- | --- |
| | CADforum PARTcommunity | |

The manufacturing 3D parts library
CADforum PARTcommunity
offers thousands of models of specific products for easier CAD design in Autodesk Inventor, AutoCAD and other CAD applications.
cadforum.partcommunity.com

On the "CAD MODELS" tab you can find an overview of product catalogs from tens of world leading manufacturers (ABB, Bosch, FESTO, Hettich, Moeller, Schneider Electric, SMC, Toshiba, Voest, Würth, Yamaha, ZKL and others). Choose the requested part in the product category tree, select its size and other parameters. The function "Generate CAD model" (login required) then generates the 3D CAD model in the requested format for AutoCAD (DWG), Inventor (IPT/IAM), 3ds Max (3DS) or in neutral formats STEP or DXF. After you generate the CAD model of the part (product), you can download the resulting ZIP file containing your CAD data and instructions.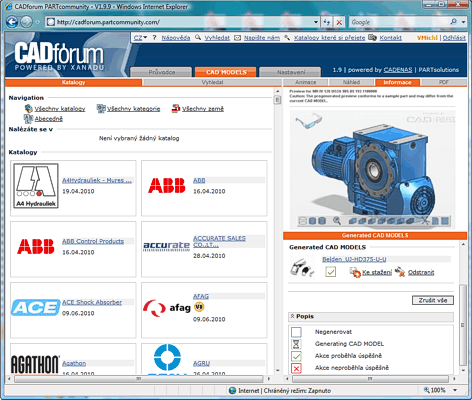 The online library cadforum.partcommunity.com is a common project of the companies CADENAS and CAD Studio.