| | | |
| --- | --- | --- |
| | 2D-Nesting - layout optimization for rectangular parts | |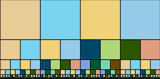 With this online tool, you can optimize placement of rectangular parts with specified dimensions and count on a specified area of the source material. So you can nest (optimally place) wooden, glass or sheetmetal plates, plastic or paper shapes for saw-, scissor- or laser-cutting - so that the material consumption and the resulting material waste is as low as possible. You can then transfer the resulting calculated shape of elements (layout) to AutoCAD with the "Copy to AutoCAD" button. Enter the required dimensions (width x height), counts and other default parameters into the nesting form. To recalculate, click Recalc:
NOTE:
The optimization process employs the Bin Pack algorithm. Each click of the Rotate button adds random rotation to the individual elements. The generated layout does not represent the best nesting strategy in all cases (as for the area utilization). To perform full optimization for nesting of arbitrary 2D shapes, use professional tools, e.g. Autodesk Trunest, CAMduct or Fusion 360.
This web application requires the Chrome, Firefox, Opera or MS Edge browser. Author: Jake Gordon - MIT LICENSE.