Block-model: DB15
(Connectors)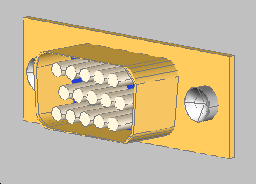 ◄ DOWNLOAD
DB15.dwg

DB15 connector, plug (male)
Downloaded: 1586x
Size 280,6kB • from 3.1.2008
This block is available only for registered members of CADforum.cz. Please log in -
registration
is free.
Your voting:
Not logged in - cannot vote for blocks
Comments:
Not logged in - cannot attach block comments
Vladimir Michl
(27.7.2009 7:47:05)
Yes, all blocks are available in earlier formats - see the Tip 2869 mentioned in the footer of the Catalog.
eghb
(26.7.2009 19:25:51)
Is this available in earlier versions than 2007 for people who do not have the latest version?
CAD download: library block blok family symbol detail part element entourage cell drawing category collection free